Calibre Business Solutions
Health and Safety Digital Conversions
EHS
SOFTWARE
FOR THE SAFETY PROFESSIONAL
Training Courses to Keep Your Team Safe
Compliance Software to Streamline Administration
Boost Your Business with Calibre Business Solutions Inc.'s Digital Safety Programs
Are you tired of sifting through piles of paperwork, trying to keep track of your company's safety statistics? Do you wish there was an easier way to monitor your safety programs and identify areas that need improvement? Look no further! Calibre Business Solutions Inc. is here to revolutionize your safety management processes with our cutting-edge Digital Safety Programs.
Gone are the days of manual data entry and time-consuming analysis. With our Digital Safety Programs, you'll have all your safety stats at your fingertips instantly. Imagine the power of accessing real-time information about your safety performance right when you need it. With Calibre Business Solutions Inc., this dream has become a reality.
Our Digital Safety Programs are designed to streamline your safety management, providing a comprehensive and user-friendly platform to track and monitor your safety initiatives. Whether you run a small business or a large enterprise, our programs cater to the needs of CEOs across Canada and the USA.
So, what sets our Digital Safety Programs apart? Let us highlight the key benefits that will transform the way you manage safety in your organization:
Centralized Safety Statistics: Say goodbye to scattered documents and information overload. Our platform consolidates all your safety statistics in one secure location, making it easy to access and analyze your needed data. Everything is just a click away, from incident reports to near-misses and training records.
Real-time Insights: Time is of the essence when it comes to safety management. Our Digital Safety Programs provide instant updates and real-time insights into your safety performance. You'll be able to identify areas of success and pinpoint those that need improvement promptly. Proactive decision-making becomes a breeze.
Customizable Dashboards: We understand that each business has unique safety requirements. Our programs allow you to tailor your dashboards and reports to focus on the metrics most matter to you. Whether it's tracking incident rates, analyzing training effectiveness, or monitoring compliance, you have the flexibility to create the perfect dashboard for your business.
Collaboration and Communication: Safety management is a team effort. Our platform fosters collaboration and communication among your employees, enabling them to report incidents, submit safety suggestions, and stay informed about safety protocols. Empower your workforce and create a safety-conscious culture within your organization.
Compliance Made Easy: Staying compliant with safety regulations can be daunting. Our Digital Safety Programs simplify compliance management, ensuring you meet industry standards and regulatory requirements. From automated compliance reminders to audit-ready documentation, we have you covered.
Join the industry leaders who have embraced our Digital Safety Programs and witnessed remarkable improvements in their safety performance. Don't let outdated safety management practices hold your business back. Experience the future of safety management with Calibre Business Solutions Inc.
Contact us today to schedule a demo and discover how our Digital Safety Programs can transform your business. Take advantage of this opportunity to keep all your safety stats online and gain instant insights into your safety performance. Calibre Business Solutions Inc. is your trusted partner in achieving safety excellence.
Steps to Digitize Health and Safety Programs
Digital transformation has revolutionized numerous industries, and the health and safety fieldDigital is no exception. As organizations seek to enhance the efficiency, accuracy, and accessibility of their health and safety programs, many are turning to digital solutions. This article outlines the essential steps in the digital conversion of health and safety programs, providing a roadmap for organizations to embark on this transformative journey.
Step 1: Assess Current Processes and Identify Goals Before initiating the digital conversion, evaluating the organization's existing health and safety processes is crucial. Identify the strengths, weaknesses, and areas that require improvement. Determine the specific goals and objectives for the digital conversion, such as streamlining reporting, increasing compliance, or improving data analysis capabilities.
Step 2: Select the Right Technology Solution Once the goals are defined, the next step is to choose the appropriate technology solution. Numerous software applications and platforms are available to support health and safety management. Evaluate different options based on features, scalability, ease of use, integration capabilities, and cost. Consider solutions that offer functionalities such as incident reporting, risk assessment, training management, and data analytics.
Step 3: Data Migration and System Integration Data migration is a critical aspect of the digital conversion process. Ensure a smooth transition by accurately transferring existing health and safety data to the new digital platform. Collaborate with IT professionals to establish a secure and efficient data migration strategy. Additionally, integration with existing systems such as HR, training, or document management systems may be necessary to ensure seamless data flow and process automation.
Step 4: Customization and Configuration Tailor the selected digital solution to meet the organization's specific requirements. Customize the software interface, workflows, and reporting mechanisms to align with the organization's health and safety processes. Configure the system to incorporate relevant regulations, standards, and industry-specific guidelines. This step involves mapping out workflows, defining roles and permissions, and creating templates for reports and assessments.
Step 5: Training and Change Management Introducing a new digital system requires effective training and change management strategies. Educate employees about the benefits of digital conversion and provide comprehensive training on using the new health and safety platform. Engage employees at all levels to foster a positive attitude towards the transition and ensure active participation. Address any concerns or resistance to change promptly to facilitate a smooth adoption process.
Step 6: Implementation and Testing Deploy the organization's digital health and safety system and conduct thorough testing to ensure its functionality and reliability. Test different features, workflows, and data integration processes to identify and rectify any issues or discrepancies. Gather feedback from users and make necessary adjustments to enhance usability and effectiveness.
Step 7: Continuous Improvement and Evaluation Digital conversion is an ongoing process that requires continuous improvement and evaluation. Regularly assess the effectiveness of the digital health and safety program against the defined goals and objectives. Seek feedback from users and stakeholders to identify areas for enhancement. Leverage data analytics to gain insights and make informed risk management, preventive measures, and compliance decisions.
Conclusion: The digital conversion of health and safety programs allows organizations to streamline processes, improve data accuracy, and enhance overall safety performance. By following these steps, organizations can embark on a successful digital transformation journey, ultimately creating a safer and healthier work environment for their employees while ensuring regulatory compliance and operational excellence.
Online Classroom Calendar
Designed by Training Providers for Training Providers
Manage your instructors, classrooms, workbooks, and individual training events in one powerful online tool. Using the BIStrainer centralized cloud-based application, you can set up courses, assign instructors, select classrooms, manage related inventory, and even process payments from any computer, tablet, or smartphone with an internet connection.
Classroom Management
Never double book a classroom, instructor, or trainee again.
Instructor Management
Easily verify instructor's training qualifications, training certifications, and availability.
Course Management
Instantly schedule training events by dragging and dropping courses onto the calendar.
Online Training
Over 1,700 Engaging Training Courses
Demand for online training continues to increase as new online training standards are set and government regulations change.
BIStrainer Learning & Compliance software includes over 1,700 industry-leading online courses. With high-impact videos, animations, and thought-provoking assessments, you can train your entire team from this robust course library. Take the courses right from the BIStrainer system and store all training records in the same place.
Training Record Management System
Managing Employee Training Records Has Never Been Easier
The BIStrainer Training Record
Management System
not only tracks and manages training records and certificates for courses completed through our LMS, but it also stores, tracks, and reports on training completed in the classroom, in the field, or on another system!
Using a convenient Excel upload feature, within minutes you can create hundreds of user accounts and upload thousands of training records.
Certificate Management
Expiry Alerts
Auto Archiving
Training Hours Reports
Mass Record Upload/Update Tools
Upload your organization's unique company roles and training topics, set training requirements and the courses that satisfy them, and quickly assign training to thousands of employees. The BIStrainer Training Matrix can be set up with just three easy steps:
Enter your company's roles and training topics
Specify courses that satisfy the training topics
Set training as required or optional based on the employee's company role and location
Learning Management System
Training employees is important, but ensuring employees have the proper level of competency is critical. Well-designed competency assessments can help your company:
Reduce overall company risk
Improve efficiency
Find the best person for the job
Increase work quality
Easily build your own online orientation using the BIStrainer orientation and course building engine. This powerful tool allows you to create a playlist of slideshows, images, videos, document uploader, digital forms, HTML5 activities, and more.
You can even use a mobile device to take photos and video on your work sites and upload everything into your orientations.
Digital Safety Forms
Online Safety Forms & Assessments
The online safety forms and assessments technology contains an advanced form building tool that incorporates drag-anddrop technology, allowing companies to easily build and administer thousands of forms online.
Each form can include checkboxes, dropdown lists, Likert scales, date and time stamps, as well as open text fields and electronic signatures. You can even add images and videos to provide additional information to people completing the forms.
Incident Investigations
Hazard Assessments
Competency Validations
COR Audits
Equipment Inspections
Worker Onboarding
Daily Toolbox Talks
Near-Miss Reports
Pre-Trip Inspections
Tax Forms
Field Level Risk Assessments
PPE Inspections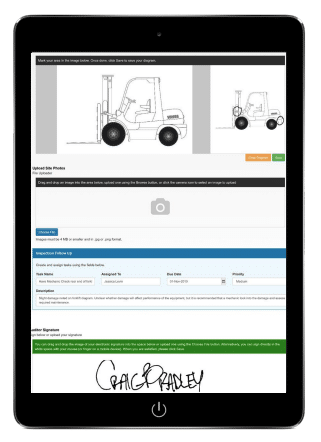 SafeTapp
Offline Training Record Storage & Digital Forms
Your team can access a wide range of safety tools from their phones including all of their training certificates, safety forms, company policies and procedures, and more! Employees can download and store training certificates on any smart phone or tablet.
As employees receive more training and tickets, uploading everything onto SafeTapp is as easy as snapping a picture.
Certificates
Synchronized Records
Digital Verification
Digital Safety Forms
Digital Folders
In addition to the functionality already mentioned, SafeTapp can also be used to:
Scan BIStrainer generated ID badges
Access the badge holder's training records
Equipment Management
Tracking Made Easy
Keeping track of equipment can be difficult. Finding the answers to common questions like, "What condition is it in?" or "What was the outcome of the last inspection?" can take hours. But what if these answers were available anytime, anywhere, on demand with any connected mobile device?
Our online equipment management feature simplifies the management process by centralizing all current and historical data in one location that is easily accessible by management and operators alike.
Preventive Maintenance
Create pre-shift inspection forms that can be completed by any approved employee. All data is stored in one central location.
Annual Audits
Schedule third-party audits on your equipment to ensure proper maintenance and reduce costly breakdowns.
Automatic Notifications
Set automated notifications to trigger when personnel identity defects, maintenance concerns, or potential safety issues.
Scheduled Forms
Send regularly scheduled forms to authorized personnel or specific individuals based on the date or the mileage.
Maintenance Tracking
View outstanding work orders, who they are assigned to, their progress, the last time they were updated, and more!
System Reporting
Access on-demand detailed or summary Excel and PDF reports, and receive real-time alerts to keep you informed on many aspects of your safety program.