Calibre Business Solutions
Health and Safety Digital Conversions
EHS
SOFTWARE
FOR THE SAFETY PROFESSIONAL
Training Courses to Keep Your Team Safe
Compliance Software to Streamline Administration
Online Classroom Calendar
Designed by Training Providers for Training Providers
Manage your instructors, classrooms, workbooks, and individual training events in one powerful online tool. Using the BIStrainer centralized cloud-based application, you can set up courses, assign instructors, select classrooms, manage related inventory, and even process payments from any computer, tablet, or smartphone with an internet connection.
Classroom Management
Never double book a classroom, instructor, or trainee again.
Instructor Management
Easily verify instructor's training qualifications, training certifications, and availability.
Course Management
Instantly schedule training events by dragging and dropping courses onto the calendar.
Online Training
Over 1,700 Engaging Training Courses
Demand for online training continues to increase as new online training standards are set and government regulations change.
BIStrainer Learning & Compliance software includes over 1,700 industry-leading online courses. With high-impact videos, animations, and thought-provoking assessments, you can train your entire team from this robust course library. Take the courses right from the BIStrainer system and store all training records in the same place.
Training Record Management System
Managing Employee Training Records Has Never Been Easier
The BIStrainer Training Record
Management System
not only tracks and manages training records and certificates for courses completed through our LMS, but it also stores, tracks, and reports on training completed in the classroom, in the field, or on another system!
Using a convenient Excel upload feature, within minutes you can create hundreds of user accounts and upload thousands of training records.
Certificate Management
Expiry Alerts
Auto Archiving
Training Hours Reports
Mass Record Upload/Update Tools
Upload your organization's unique company roles and training topics, set training requirements and the courses that satisfy them, and quickly assign training to thousands of employees. The BIStrainer Training Matrix can be set up with just three easy steps:
Enter your company's roles and training topics
Specify courses that satisfy the training topics
Set training as required or optional based on the employee's company role and location
Learning Management System
Training employees is important, but ensuring employees have the proper level of competency is critical. Well-designed competency assessments can help your company:
Reduce overall company risk
Improve efficiency
Find the best person for the job
Increase work quality
Easily build your own online orientation using the BIStrainer orientation and course building engine. This powerful tool allows you to create a playlist of slideshows, images, videos, document uploader, digital forms, HTML5 activities, and more.
You can even use a mobile device to take photos and video on your work sites and upload everything into your orientations.
Digital Safety Forms
Online Safety Forms & Assessments
The online safety forms and assessments technology contains an advanced form building tool that incorporates drag-anddrop technology, allowing companies to easily build and administer thousands of forms online.
Each form can include checkboxes, dropdown lists, Likert scales, date and time stamps, as well as open text fields and electronic signatures. You can even add images and videos to provide additional information to people completing the forms.
Incident Investigations
Hazard Assessments
Competency Validations
COR Audits
Equipment Inspections
Worker Onboarding
Daily Toolbox Talks
Near-Miss Reports
Pre-Trip Inspections
Tax Forms
Field Level Risk Assessments
PPE Inspections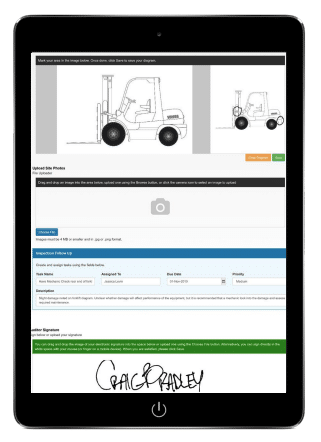 SafeTapp
Offline Training Record Storage & Digital Forms
Your team can access a wide range of safety tools from their phones including all of their training certificates, safety forms, company policies and procedures, and more! Employees can download and store training certificates on any smart phone or tablet.
As employees receive more training and tickets, uploading everything onto SafeTapp is as easy as snapping a picture.
Certificates
Synchronized Records
Digital Verification
Digital Safety Forms
Digital Folders
In addition to the functionality already mentioned, SafeTapp can also be used to:
Scan BIStrainer generated ID badges
Access the badge holder's training records
Equipment Management
Tracking Made Easy
Keeping track of equipment can be difficult. Finding the answers to common questions like, "What condition is it in?" or "What was the outcome of the last inspection?" can take hours. But what if these answers were available anytime, anywhere, on demand with any connected mobile device?
Our online equipment management feature simplifies the management process by centralizing all current and historical data in one location that is easily accessible by management and operators alike.
Preventive Maintenance
Create pre-shift inspection forms that can be completed by any approved employee. All data is stored in one central location.
Annual Audits
Schedule third-party audits on your equipment to ensure proper maintenance and reduce costly breakdowns.
Automatic Notifications
Set automated notifications to trigger when personnel identity defects, maintenance concerns, or potential safety issues.
Scheduled Forms
Send regularly scheduled forms to authorized personnel or specific individuals based on the date or the mileage.
Maintenance Tracking
View outstanding work orders, who they are assigned to, their progress, the last time they were updated, and more!
System Reporting
Access on-demand detailed or summary Excel and PDF reports, and receive real-time alerts to keep you informed on many aspects of your safety program.